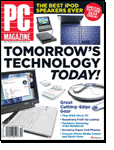 Most of us don't really want to spend 24/7/365 online, occasionally there are times when we need to go, ahem, offline and find a peaceful place to read. Until they come up with a truly portable device that's as easy to read as a print magazine, print magazines will under certain, ahem, circumstances be what we need.
That said, the chosen reading material can be about online matters, so we don't need to abandon the online simply because we have to go offline. So, now you can choose from a virtual shelf of free computing magazines to read offline through Sciencebase. I have to admit some of the selection are a bit too esoteric even for an ubergeek like myself. CE Pro (Custom Electronics Professionals) is aimed at helping dealers and installers stay current with products, understand technology and run profitable businesses, not something I really need to read at this time. But, one magazine that should be on everyone's easy-to-reach magazine rack is PC Magazine.
PC Magazine bills itself as America's #1 technology magazine, I cannot vouch for that but it does deliver authoritative, lab-based comparative reviews of countless technology products and services. You can get it for free if you're in the US by filling in the free PC Magazine form here. This is a time-limited offer so you get your free issues and pay a special discounted rate for the additional ones. Check the offer page for more details and the obligatory T&Cs.